As we all know that Godaddy is biggest Registrar.It provides lot of domains.It provide us following services like,
1) Domain Name Registration
2) Domain Name Selling through Premium Listing
3) Domain Name Selling through Auctions
4) Web Hosting
5) Cash Parking
So these are the services provided by the Godaddy.
The main advantage of premium listing is that it is free Godaddy did not charge you for listing of your domain name.He will get some commission if your domain name gets sold.
   Steps  To  Do  Godaddy  Premium  Listing 

1) Login to you Godaddy account.
2) Click on the "Manage" in row of Domains                                         
3) Select your domain name and go to Monetize.
4) Click on the "Sell on the premium listing"
5) A new window will open now we need to add a payee account first.
6) Click on add payee account again a new window will open now click add payee.
7) Enter payee nick name and press next and next again.Then you will see you need to add your payment method.
8) Add your payment method and fill all the detail about you and your bank correctly.
9) Click next and finish this form.
10) Now come back to "Sell on the premium listing" window and enter your amount at which you want sell your domain name.
11) Now it will ask for checkout do it .It will not detect any money from your account because premium listing is free and will say to make payment do it because it is zero dollar checkout.
12) After payment you would redirected to Thank You page.
13) Now go to "visit my account" and click again on "Manage" in row of "Domains"
14) Again select your domain name and click on Monetize and then select "sell on premium listing"
15) Now click on "View Premium Listing". You will see you have submitted the request for premium listing and he is showing the listing price in Premium Listing Window.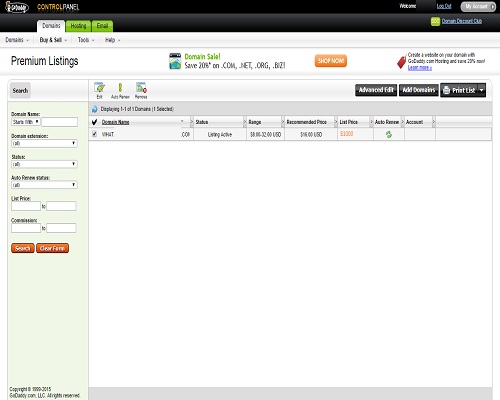 Now in between 24 to 48 hours you will be able to see your domain in the premium listing on Godaddy domain search engine.So this is the way to list your domain name in godaddy premium listing.
This was all about the Godaddy Premium Listing.